Industrial Duct Systems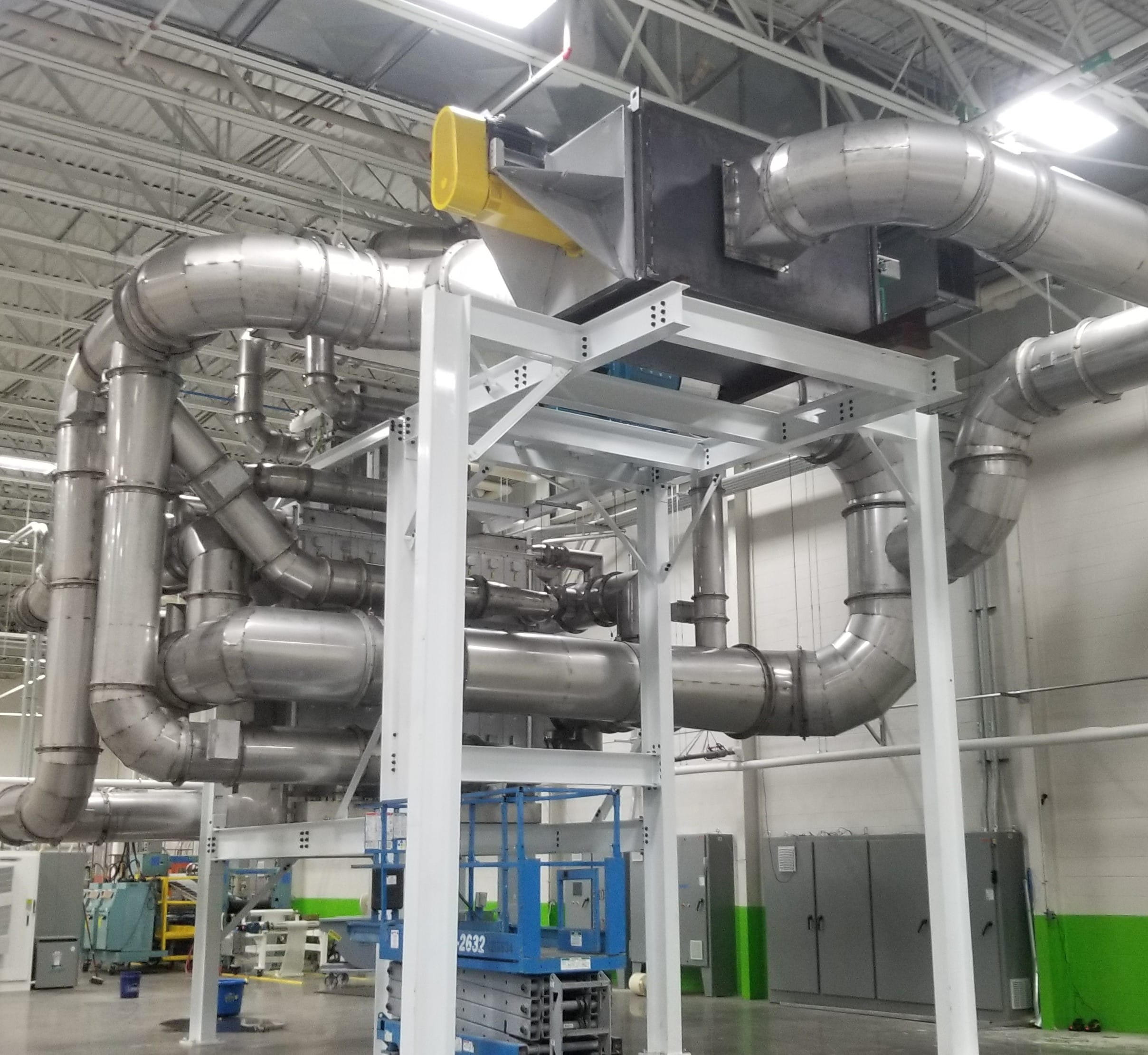 Industrial duct systems are used for supply or exhaust, are under positive or negative pressure, of heavy or light duty construction, convey clean and dirty airstreams, constructed of metal, plastic or fabric materials, and assembled together with flanges, clamps, slip fit or welded.  Duct systems include straight lengths or sections of duct, transitions, elbows, and bends, enlargements or contractions, hoods, discharge stacks, and hangers or supports.
Duct design if performed correctly allows conveying of all air and particulate without deposition of materials, at a design carrying velocity with minimal pressure loss and at reduced fan horsepower.
Industrial duct is typically round with flanged connections, with material thickness and reinforcement designed for system pressures.  Gases and particulate in the airstream determine the materials of construction.   As an alternative to a flanged and welded duct, a "clamp-together" style duct is often employed on applications where fast installation time and future system design changes are anticipated.
Our solutions for duct and components are:
Follow designs set forth in INDUSTRIAL VENTILATION A Manual of Recommended Practice ACGIH Latest edition
Heavy-duty, durable and long-lasting
Selected for the known airstream constituents using the appropriate materials of construction
Designed for minimal pressure loss and low energy consumption
Whether you need an entire industrial duct system or replacement duct sections, or individual components such as custom hoods, stacks, or enclosures, SysTech has what you need in the right configuration.
Fabricated Metal Duct
---
Custom fabricated duct is all welded and constructed of carbon steel, galvanized steel, 304 or 316 stainless steel, or aluminum and uses flange rings to hold together the sections of duct, fittings, stacks, and hoods.  It can be surface prepped and painted to specifications.
Fits to all required connections on components and fans
Materials of construction designed for durable and long-lasting service
Fits within abstract space constraints
Long radius elbows and tapered fittings to minimize system pressure losses
Fiberglass (FRP) Duct
---
Fiberglass reinforced plastic or FRP duct is an excellent choice for corrosion-resistant duct, hoods, and enclosures installed in harsh or corrosive industrial environments. SysTech offers FRP industrial duct, which provides features such as:
Thermoplastic inner layer
National Sanitation Foundation approval
Exceptional quality assurance
Temperature tolerance to 400° F
UV resistance
PVC Duct
---
Whether your application is dictated by a corrosive airstream or an aggressive ambient environment, we offer duct and fittings constructed of PVC (polyvinyl chloride), CPVC (chlorinated polyvinyl chloride) and PP (polypropylene) materials.  Plastic duct advantages include:
Exceptional chemical resistance to acids, bases, and salts
Operating temperatures – PVC to 140º F, PP to 230° F and CPVC to 200º F
Consistent surface uniformity
Lightweight fabrication
Long service life
Prefabricated or Clamp-Together Metal Ducting
---
Prefabricated duct is available "off the shelf" in a clamp together design which is strong, long-lasting, and well-suited to a wide variety of industrial environments where equipment layout might change over time. Duct and fittings are available up to a 24-inch diameter.   Clamp together industrial ductwork offers advantages such as:
Simple installation – Install time significantly reduced
Clamp together sections of duct and fittings; no field welding required
Smooth interior surface
Easily reconfigured for floor plan changes
A full complement of elbows, tees, and adapters
Materials of construction include carbon, galvanized or stainless steel
Fabric Duct
---
"Soft wall" duct is oftentimes an excellent fit for air distribution systems. It can be custom-tailored to fit into almost any overhead space. It is available in a variety of colors and materials such as standard polyethylene, polyester for more rigid construction and fiberglass for high-temperature applications that need to withstand up to 500° Fahrenheit.
Where it is suitable, it has significant materials and installation cost savings.
It has so many advantages:
Lightweight and easily installed
Air movement thru duct is quiet
Hygienic
No condensation issues
Flame retardant materials available
Trust SysTech for your industrial duct solutions.  Call us, we have the experience and know-how to develop and install reliable, quality industrial supply and exhaust duct systems for all types of facilities from commercial buildings to manufacturing plants to warehouses.