Maintenance is the backend of capital equipment purchases.  It's required and the better it's addressed on a periodic basis, the longer expected equipment life and the greater your uninterrupted production.  That said, every facility has a different allocation of maintenance staff and skill sets.  SysTech has long recognized that maintenance departments appreciate the up-front support we offer with the equipment and systems we install.  On a long term basis, we offer clients with preventative maintenance packages that assure equipment is operating at peak performance and down time and crisis situations are minimized.
The most efficient businesses that have implemented comprehensive, planned and predictive maintenance programs find that their total costs can be as much as 50 percent lower than the costs for those organizations that continue to maintain equipment reactively. Benefits of a preventative maintenance package?
Extended equipment operating life
Deferred capital replacement costs
Improved operating efficiency
Reduced energy use/energy savings
Early identification of potential problems
Fewer emergency service repairs
Less frequent system downtime
Decreased interruptions to operations and production
Increased comfort / reduced occupant complaints
Enhanced safety / mitigated risks
Preventative Maintenance Services
---
With a planned service agreement that's tailored to meet your budget and operating needs, SysTech will conduct regularly scheduled maintenance inspections. Based on your system requirements and manufacturers' recommendations, site visits can be scheduled monthly, quarterly, semi-annually or annually.
During each preventive maintenance service visit, a qualified and experienced technician will inspect and evaluate your ventilation equipment, make needed routine adjustments, and identify any potential problems or essential repairs.  A written detailed report will follow within one week of the visit. With this information, future scheduled maintenance for repairs can be set in place long before issue arise.
Dust Collector Field Service and Maintenance Package
---
Dust collectors are under scrutiny because their failure is readily evident with dust accumulation and contaminated room or discharged airstreams.  
Routine inspection would include but not limited to:
Airflow and pressure readings
Confirming airflow at pick-up points
Checking airlocks (If applicable)
Inspection of filters
Checking pulse cleaning system
Mechanical inspection of equipment including gasketing
Visual physical inspection of equipment
Air Handler Preventative Maintenance Package
---
Air Handlers have a host of available options and although seasonal in need, they require maintenance inspection prior to summer and winter months.
Routine inspection would include but not limited to:
Checking damper operation
Inspecting and changing filters
Inspection of burners
Checking airflow
Mechanical inspection of equipment
Visual physical inspection of equipment
Fans & Blower Inspection and Service Package
---
Fans and blowers are the workhorse in the industrial sector.  As such their peak operational efficiency is of paramount importance.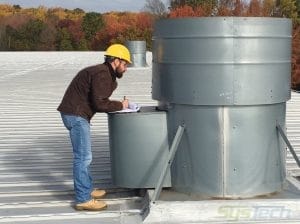 Routine inspection would include but not limited to:
Lubricating motor bearings
Confirming airflow and static pressure
Checking belts for tightness and integrity
Inspecting wheel condition for wear, if access door is in place
Mechanical inspection of equipment
Visual physical inspection of equipment
Vibration checks
Explosion Suppression System Periodic Service and Inspection Package
---
Periodic inspections and record keeping for explosion protection system is mandated by code and needs to be followed closely.  SysTech's manufacturer, IEP Technologies has plans in-place that will that will satisfy code officials and insurance carriers to provide quarterly maintenance per NFPA 654.
Routine inspection would include but not limited to:
Control panel electrical check
Verify pressure sensor is clear and calibrated
Inspect IR detector
Extinguisher pressure checks
Check all interlocks
Mechanical inspection of equipment including controls, bottles, and valves
Visual physical inspection of equipment
Do we have a plan that will suit your needs? Call us and find out how we can extend the life of your industrial ventilation system.